As you may or may not be able to tell by the title of this post, I will be talking about (popular) book series that I haven't read yet! And yes, I am quite ashamed of it! I hereby give you permission to throw sticks and tomatoes at me! 😀
Keep the image of Cersei's Walk of Shame in mind because that's what I will be thinking of with every series I'm going to mention! *hides*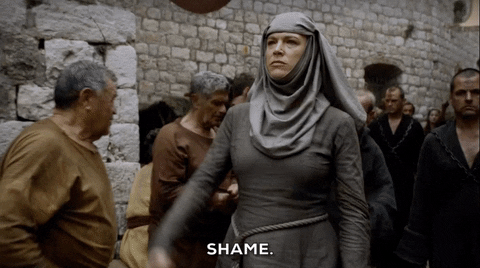 *click on the book covers to be directed to the Goodreads page*
The Infernal Devices trilogy by Cassandra Clare:
I KNOW, I KNOW! Shame on me. This has been on my TBR for the longest time, probably since I finished City of Heavenly Fire (which was AGES ago!!!) so you have every right to throw things at me 😀
A Court of Thorns and Roses trilogy by Sarah J. Maas:
This is another series that I've been meaning to read for sooo long BUT GUESS WHAT?! I got ACOTAR last week and A Court of Mist and Fury is on its way!!! I also pre-ordered A Court of Wings and Ruin SOOOOOO this will be read very soon!!!!!!!!
The Raven Cycle by Maggie Stiefvater:
Ready to disown me yet? I honestly have no good explanation as to why I haven't read this one yet. I know that it's great and amazing and everbody loves it and I WILL get to it soon. Soon-ish. Ha!
Shades of Magic trilogy by V.E. Schwab:
I haven't really heard of this series until the beginning of 2017 (I believe?) so it hasn't been on my TBR for too long! I'll try to get around to it eventually but for now this will sit on my TBR for a while because I want to tackle the books that have been on it for a couple years first! :')
The Bone Season by Samantha Shannon:
First off, how pretty are these new covers? ❤ On the one hand, I am loving the cover change but on the other hand….. I already have two mismatched editions of The Bone Season and The Mime Order and once I'll buy The Song Rising, I'll have ANOTHER edition = 3 different editions of the same series. That BUGS ME TO NO END!!!!! I might have to buy the new editions of the first two books just so I have a matching set 😥 Shame on you, Samantha Shannon for making me waste more money on books!!!!!! 😀 Anyway, back to the point! I've put The Bone Season on my April TBR but life is getting very busy right now and I have a feeling that I won't be able to read this series this month!
Quick side note: Six of Crows would have been on this list too BUT I HAVE JUST STARTED READING IT AND I'M ONLY ON CHAPTER 3 AND IT'S SOOOO GOOD HELP ME!!!!!!! I am not ready for it like PHYSICALLY and EMOTIONALLY not ready to read it! I think I'll have to take a break because I NEED TIME to read this book and fully immerse myself in it and the beautiful characters. I think I'll just read ACOTAR first because I can't deal with all the feels that SOC is giving me right now 😀
So, that's it for the popular series I'm ashamed I haven't read yet! To be honest with you guys, I could make a part 2 out of this because there's a lot more series that I haven't read yet! But I feel like 5 was enough for today 😀
As always, thanks for reading!
Jackie x
Have you read any of these series? (You probably have, why am I even asking.) Which popular series have you not read yet? And do you feel as ashamed as I do? Which of the series I mentioned should I read first??? Let's chat in the comments!