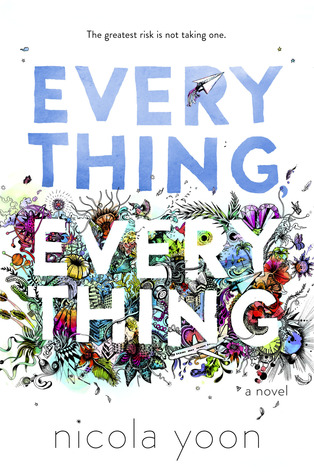 Title: Everything, Everything
Author: Nicola Yoon
Genre: YA, Contemporary, Romance
Published: September 1st 2015 by Delacorte Books for Young Readers
Pages: 310
---
Goodreads / Amazon US / Amazon UK / Barnes & Noble
---
(via Goodreads):
 "My disease is as rare as it is famous. Basically, I'm allergic to the world. I don't leave my house, have not left my house in seventeen years. The only people I ever see are my mom and my nurse, Carla.

But then one day, a moving truck arrives next door. I look out my window, and I see him. He's tall, lean and wearing all black—black T-shirt, black jeans, black sneakers, and a black knit cap that covers his hair completely. He catches me looking and stares at me. I stare right back. His name is Olly.

Maybe we can't predict the future, but we can predict some things. For example, I am certainly going to fall in love with Olly. It's almost certainly going to be a disaster."
I read this book a few weeks ago but never got around to upload the review so here we are! 😀
I've been meaning to read this book for a long time and when I saw the movie trailer with Nick Robinson (gosh, I love him) when it first came out, I knew I had to give it a go!
I have to say I really enjoyed reading it at first – we have a diverse (yay!) main character (half-black/half-Japanese) who has a rare disease that doesn't allow her to leave the house. The only human contact Madeline has is her mother and her nurse who both check on her every day. When Olly, the new neighbour from next door, starts messaging her and they start getting to know each other, Madeline falls in love. And that love has been doomed from the start.
Madeline was a very relatable character and she reminded me of my young, naive and pubescent self! When I had my first crush (and my second… and my third lol) I behaved exactly the same way she did. Just thinking about the other person makes you blush, you get butterflies in your stomach whenever they message you and all that jazz! It was so cute to read about all her thoughts and initial feelings and emotions when contacting Olly, whether it be via chat or in person.
I enjoyed Nicola Yoon's writing a lot and the whole set up of the book was so cool. It was so easy to just breeze through it because the writing just flowed so naturally. And there were loads of drawings, lists, emails etc which was really engaging and made the reading experience so much more fun! This is also a book that you could easily finish in one sitting!
I really liked the idea of an impossible and basically hopeless romance between Madeline and Olly. Madeline is trapped in her house forever because of her illness and Olly has to sneak in when her mum isn't home. The thought of a relationship between them was crazy at first but with time they could have made it work! I thought it was an interesting idea and would make the story really unique!
And I was really liking this book until I got to the end and the very disappointing plot twist. The ending really is the only reason why I gave it 3 stars instead of 4 or maybe even 5.
I won't spoil anything on my blog but I will link you to an #ownvoices review if you want to know more about why the ending of Everything, Everything is harmful and ableist. Be aware that the review contains spoilers!
All in all I think the concept of this book was unique and promising and it had good potential but it wasn't carried out/developed well enough. I am really disappointed with the ending and a lot could have been done differently! I feel like the author herself wasn't sure how to wrap the story up so she did that.
While I have acknowledged and realised why Everything, Everything is problematic, I still enjoyed the rest of the story and therefore I give it 3 stars.
 (3 out of 5 stars)
I'm still going to watch the movie because the trailer is soooo cool – I swear I've probably seen it 50 times. Nick Robinson might be the BIG reason why I'll be watching it haha he is just adorable *drools*. And I love Amandla Stenberg! Watch the movie trailer for Everything, Everything below!
Have you read Everything, Everything? What did you think of it? Are you planning on watching the movie? Let's chat in the comments!