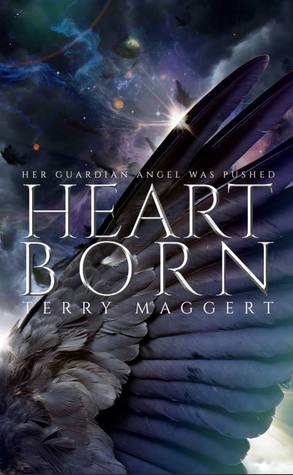 Title: Hearborn
Author: Terry Maggert
Genre: YA, Fantasy, Paranormal, Romance
Published: July 31st 2016 by Createspace Independent Publishing Platform
Pages: 238
via Goodreads:
"Her guardian angel was pushed.

Keiron was never meant to be anything other than a hero. Born high above in a place of war and deception, he is Heartborn, a being of purity and goodness in a place where violence and deceit are just around every corner. His disappearance will spark a war he cannot see, for Keiron has pierced the light of days to save a girl he has never met, for reasons he cannot understand.

Livvy Foster is seventeen, brave, and broken. With half a heart, she bears the scars of a lifetime of pain and little hope of survival. Until Keiron arrives. I

n the middle of a brewing war and Livvy's failing heart, Keiron will risk everything for Livvy, because a Heartborn's life can only end in one way: Sacrifice. Fall with Livvy and Keiron as they seek the truth about her heart, and his power, and what it means to love someone who will give their very life to save you."
---
Goodreads / Amazon UK / Amazon US / Barnes & Noble
---
*I received an e-ARC from the publisher via NetGalley in exchange for an honest review. This does not influence my opinion in any way!*
Heartborn is a novel about… I am too #lazy to write a short summary but it is somewhat explained in the following paragraphs – or go read the blurb before reading this review!
The book had an interesting premise and it started out great but it was very anti-climactic for me.
Heartborn had a great opening scene – Keiron is an angel and stands on some kind of floating-in-the-sky island, about to jump down to get to earth. But his brother binds/chains him and his wings and pushes him to his death – it was so intriguing and I immediately wanted to know more about the world and what was going to happen next!
Then there is a POV switch and we get to know Livvy who struggles with a heart condition – she only has half a heart and therefore needs to be very careful when doing simple things like walking. She is working at a library at the desk to spare her heart from having to endure too much.
I thought the concept was pretty interesting and I was excited for Keiron and Livvy to meet. I was eager to find out what Keiron's "destiny" was and why he was in such a rush to get to earth to meet Livvy.
And then the confusing POV switches happened – you either got to see whatever was happening between Keiron and Livvy on earth (from Livvy's POV) or what was happening at House Windhook in the sky (the place where Keiron's family live).
That fact alone was very confusing because the story completely lacked world-building. The only thing I knew was that a House Windhook existed and Keiron's parents lived there but I didn't know what their purpose was, if there were other houses, how they stood in relation to each other/how the whole angel society up in the sky worked etc.
I also found myself not caring for any of the characters of House Windhook. Some girl named Cressa (I believe?) appeared, delivering a message (from another House apparently) that Keiron's brother was going to get murdered for pushing his brother off their land because they had assumed Keiron had died in the fall.
But since nothing was really explained, I didn't even bother to understand the future events that happened at House Windhook and I found myself skimming through it. There was a major fight scene in the last third of the book between House Windhook and some other angelic House (I still don't get who they were and what their purpose was lol like were they superior or not? Why did you fight? What is this???) so I didn't care for any of those new characters EITHER!
At first, I was still quite interested to see how Keiron and Livvy would get along and I thought the romance between them was going to be slow-burning because he was there on a mission to save Livvy – but literally a day after they met they kissed and talked about dating and I was like…… OH HI THERE INSTA-LOVE, IT'S NICE TO SEE YOU AGAIN!!!
Another annoying trope in the book was the group of bullies that were obviously your typical stuck-up mean girls who made fun of Livvy and called her Wheezer because of her heart condition (umm, who does that?????!?). I am SO tired of this trope like can we just stop *unimpressed smiley*
The story simply couldn't hold my interest any longer and I found myself skimming through the last 40% of the book. I was so close to DNFing it!
I thought it was going to get better but the ending was so very predictable. It was partly revealed in the synopsis already so I was not very surprised lol.
There was nothing new or exciting in this book or specific to point out that made me go "Wow, this is unique!"
(I think the reason why I didn't find it in me to care for any of the characters or how the story up in the sky progressed might have been because I only ever read this book on my 20-minute journey to and from uni and I was never really concentrated enough to read this book. *oopsies* #myfault #maybe)
Heartborn had such great potential to become a whole action-packed novel about angels and humans with a lot of fighting but it absolutely fell short.
Sadly, the lack of world-building, the major plot holes, the cliché tropes and the forgettable characters that I couldn't connect to lead me to give this book 2 stars only. 
⭐⭐ (2 OUT OF 5 STARS)
Do you guys know the video of the woman saying *I am confusion* when talking about the pronunciation of Kansas and Arkansas??? Yeah, that's how I was feeling while reading this book.
I don't usually rate books below 3 stars because I feel like… just because I didn't enjoy the book doesn't mean someone else won't! But this simply wasn't very enjoyable for me and I would have DNFed it if I wasn't already so far through with it. 
What was the last book that you (almost) DNFed? Why? Let's chat in the comments!