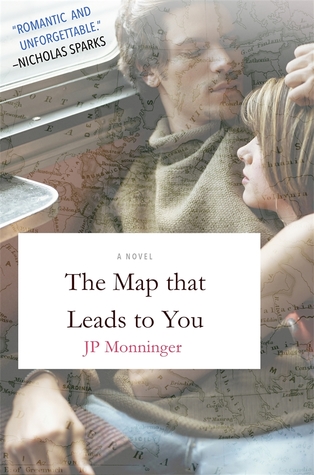 via Goodreads:
""Romantic and unforgettable." –Nicholas Sparks

A romantic, vivid novel that takes place in the tender time of a young woman's life:

Heather has graduated from college and is traveling around Europe with her two best friends. She's left school responsibility behind and adult responsibility is looming, but this is her one, ONE last summer to be free.

Heather doesn't expect to even meet Jack, let alone fall in love with him. Jack is an enigmatic Vermonter a few years older than she is, who is following his grandfather's journal to various cities around Europe.

But in the same way that forces are bringing Jack and Heather together, life and duty are pushing them apart. And Jack has a secret that is going to change absolutely everything."
---
Title: The Map That Leads To You
Author: J.P. Monninger
Genre: Romance, Contemporary, New Adult
Published: June 13th 2017 by St. Martin's Press (OUT NOW!)
Pages: 400
---
*I received a free ARC from the publisher via Netgalley in exchange for an honest review. This did not affect my opinion in any way!*
I requested this way back when I first signed-up on Netgalley in March and this was one of the first books I got approved for! I was so excited because my ratio was literally 0% and St. Martin's Press is a big publisher??? SO THIS WAS QUITE COOL!
Anyway, let's get into the wonderful-ness (is that even a word) of this lovely book!
The Map That Leads to You is a New Adult fiction novel that takes place in Europe. After graduating, Heather and her two best friends go on their highly anticipated Europe trip, wanting to let loose before going back to real life where a new job was awaiting Heather. On a train ride to Amsterdam, Heather meets Jack and they hit it off straight away!
Heather and Jack were two very different personalities. Heather is the rich, intelligent and career-oriented A-student who likes things organised and never does things spontaneously. Jack, on the other hand, is a (sort of) pretentious, overly confident  person when we first meet him. He is impulsive and unpredictable and always has a surprise up his sleeve. I wouldn't say they were polar opposites but they were certainly different and bound to clash. It was a hate to love romance and I loved everything about it!
When they first meet, they're both full of banter and they keep teasing and flirting with each other. They cross paths again at a party in Amsterdam and they're obviously attracted to each other and they feel a pull towards each other so they start spending more and more time together.
Heather, being the well-organised person that she is, planned to mostly visit all the typical tourist spots but Jack makes her loosen up and be more adventurous. Together, they travel all over Europe together – Berlin, Kraków, Prague and many more cities – and instead of seeing the typical sights, Jack surprises her by showing her a special place in every country.
They sneak into a horse barn in Amsterdam and sleep there over night, they plant a tree in the Jardin du Luxembourg in Paris (which was kind of illegal but who cares it was so ROMANTIC). It was so lovely to see Heather open up and just live in the moment! The both of them were really good for each other!
Obviously, things don't always go as smoothly and they had their fights and discussions and even parted ways at one point. But there was a good balance between adventure, romance and overall sweetness, and drama, fights and angst in the novel!
The thing that I probably loved the most about this book was the writing. I absolutely adored the descriptions of their journey all over Europe – it felt like I was right there, travelling along with them! The writing was so poetic and descriptive and metaphorical and simply beautiful. I loved everything about it. ❤ ❤ ❤
And it definitely didn't help when it came to the emotional scenes because I was a crying mess at the beginning, in the middle and at the end!
The ending of the book is very bittersweet. I won't mention any details because of spoilers but it was beautiful in a heartbreaking way.
Gosh, I could gush about this book a lot more because it was SO GOOD!
The Map That Leads To You is such a stunning and emotional read about travelling Europe and what it means to find love in the most unexpected places.
⭐⭐⭐⭐ (4 OUT OF 5 STARS)
My heart is very happy after reading this book and I would 100% recommend it :')
---
The Map That Leads To You is OUT NOW so go and purchase the book for yourself or a friend or a family member or any enemy, IT REALLY DOESN'T MATTER 😉
Goodreads / Amazon US / Amazon UK / Barnes & Noble
---
Do you like travel romances? Have you ever taken a trip across Europe? What is your favourite country in Europe? Let's chat in the comments!