Are you getting sick of me talking about Harry Styles yet?
No? WELL YOU'RE IN LUCK BECAUSE GUESS WHO I'LL BE TALKING ABOUT TODAY.
You guessed it—Harry Styles.
I'm sorry not sorry if you're annoyed about this but I HAVE MORE EXCITING NEWS TO SHARE AND I PROBABLY WON'T SHUT UP ABOUT IT FOR THE NEXT 3 YEARS. ENJOY!
Don't worry, this post is very short!
Fierce Fangirl Fridays are hosted by Jackie @ Too Much of a Book Nerd (hey, this is me! 😉). Everyone can join in and do some healthy fangirling on their blog!
Whenever you have something, anything to fangirl about – whether it be a book, TV show, music, celebrities, your pet, the universe, finding your soulmate or just a recent meal that you've had – Fierce Fangirl Friday is your opportunity to do so! It doesn't matter if it's a recent obsession of yours or something you've been loving for a while!
All I ask is that you pingback to me – basically, just copy the link of any of my FFF posts and use it in your own FFF post when tagging me! That way I won't miss anyone's post!
I will also do weekly recap's and showcase everyone's posts!
RECAP FROM LAST WEEK:
LET'S FANGIRL:
You've probably read the title and thought "Really, Jackie? Harry Styles? AGAIN?"
UMMMM, YES. HARRY STYLES. AGAIN.
BECAUSE I LOVE HIM SO DEARLY AND EXCITING THINGS HAVE BEEN HAPPENING.
If you've seen my very first Fierce Fangirl Friday post (which is linked above but hey, let me link it here again because third time's a charm, right?) you might remember that I've been freaking out over Harry's new album and I mentioned getting tickets to see him on tour in October!
He's touring very small venues around the fall time and there were only a limited number of tickets so it sold out in the matter of minutes! But me, being the master of buying concert tickets, managed to get some, WOOO!!!!!
Well, due to high demand Harry has extended his tour and added 56 more dates.
This time he is touring big arenas, including MADISON SQUARE GARDEN, so obviously I had to get tickets! Not for MSG but a date in Germany lol.
AND I DID!
Which means I'll be seeing Harry in October (two days before my birthday *dies*) and in March!!! AHHHHHH!
I'm so so so happy about this because I love Harry and I'm obsessed with his album and I just can't wait! Let's not talk about all the money I already spent on him lol but I think we've established by now that I'd do pretty much anything for him XD
SO YAAAYYYYY I'LL BE SEEING THIS CUTE PRETTY GORGEOUS BEAUTIFUL STUNNING ADORABLE FACE LIVE IN CONCERT! T W I C E!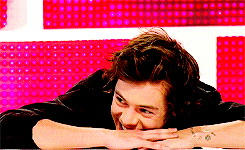 Thanks for reading and sorry if you're sick of hearing me talk about Harry lol.
#sorrynotsorry
---
Are you planning to go to any concerts in the future? What was the last concert you went to? What are you fangirling/fanboying about this week? Let's chat in the comments!